A customer complains that his old tower PC doesn't always tum on and randomly shuts off for hours
A customer complains that his old tower PC doesn't always tum on and randomly shuts off for hours
Question
A customer complains that his old tower PC doesn't always tum on and randomly shuts off for hours. The HDD and RAM memory tests both come back with positive results What hardware part would you check next? NIC EXT-USB HDD PS/2 PSU SSD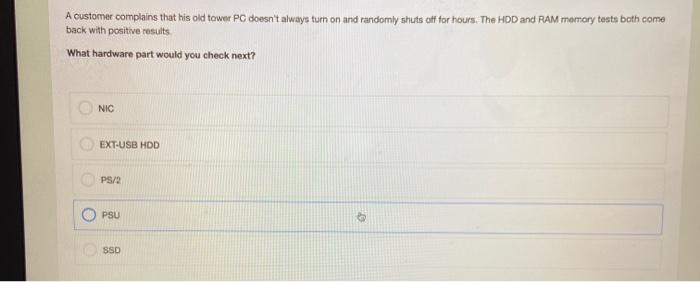 Expert Solution Answer
Out of all the given options,
The correct answer is: PSU
PSU - Power Supply Unit, as the name suggests, it has to do with random shut down or turning on of the computer.
PSU is responsible for providing the required power to all the parts of the computer system.
Other options are incorrect here as:
NIC - Network Interface Card- It has responsible for connectivity with the internet or some other network.
EXT-USB HDD - It is the external hard disk drive for storing data. It may or may not be connected to the system.
PS/2 - This is related to the connectivity of Keyboard or Mouse.
SSD - Solid State Drive, it used for storing data, it is much faster than HDD.